BEST COLLECTION AGENCY
Since 1991 we have been efficiently collecting creditors
accounts receivables using the most sophisticated
strategies and technology.
Let's Get Started
ABOUT
METROPOLITAN
COLLECTION AGENCY
We provide the highest client servicing with exceedingly high collection recovery rates. We are a no collect-no fee collection agency. We have an attorney on staff and enforce collection with legal action when our client chooses to do so. We provide prompt remittances to all of our clients with easy to read statements. We assist all small businesses, utility companies, all types of medical and dental practices and landlords with their delinquent accounts.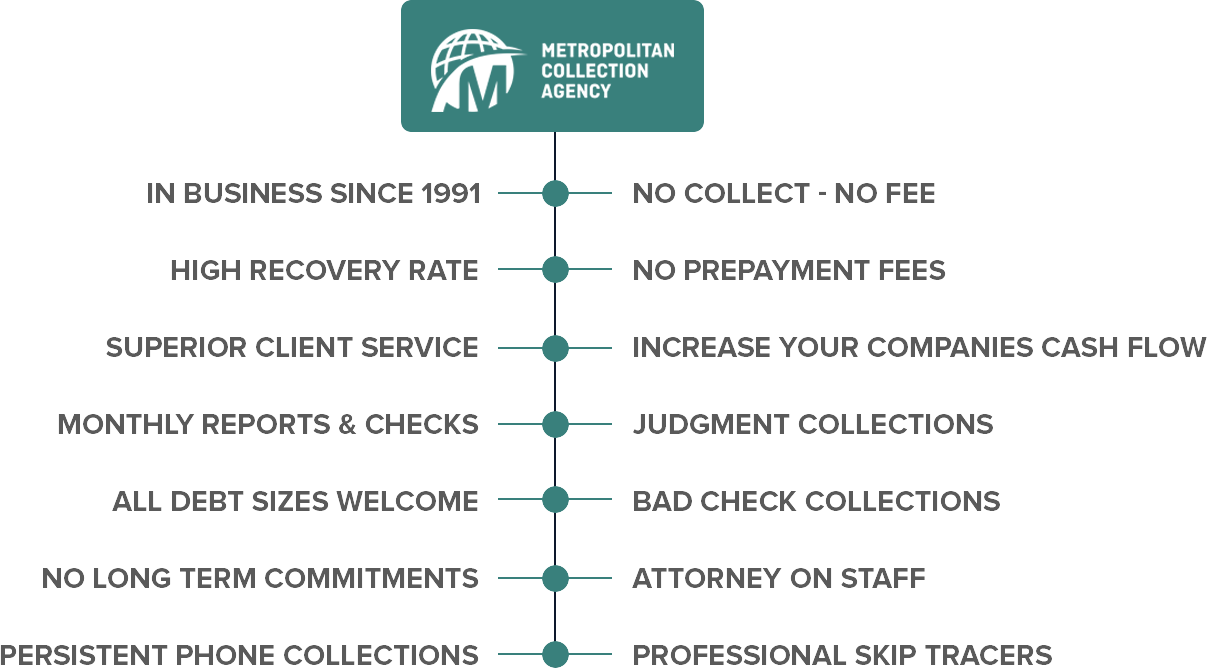 "The best results and
service from any collection agency I've ever used"

DR.WARREN J. WALDOW
DDS,Fairport, NY

"Our collections on delinquent accounts have been greatly increased since we took on Metropolitan as our collection agency"

PATRICIA D'ANTONIO
Billing Specialist, Genesee
Surgical Associates, P.C.


"I wanted to take the time to thank you for your collection help. Without you we wouldn't have received the money due us. Your company did a great job"

GLEN SKALNY
Van Zile Travel Agency,
Rochester, NY

"Ask us how your customers can pay for all commissions involved!"
CALL US TODAY to plan a meeting at your convenience
METROPOLITAN COLLECTION AGENCY
585-256-1110
TOLL FREE
800-716-0076
FAX: 585-256-1149
Email: metrocollect@aol.com
Microsoft Teams, Google Meets and Zoom Meetings also Available
This is an attempt to collect a debt. Any information obtained will be used for that purpose.